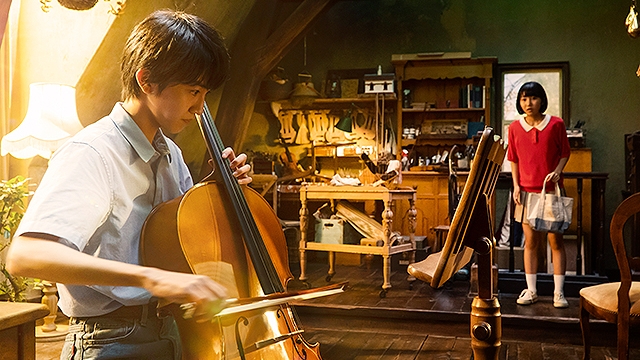 Japanese Box Office: Live-Action Whisper of the Heart Debuts at #4
The long-awaited film adaptation from Aoi Hiiragi's romantic coming-of-age manga Mimi wo Sumaseba / Whisper of the Heart was finally released in 352 theaters across Japan on October 14, then earned a slightly disappointing 109 million yen ($732,400) from 79,000 admissions on its Saturday and Sunday debut to debut at number four. The three-day box office gross from Friday to Sunday was 147 million yen ($987,730) from 108,000 admissions.
Critical reception for the film was less than favorable. It only ranks seventh Filmarks Day One Satisfaction Ranking with an average rating of 3.38/5.0 based on 927 reviews.
The Yuichiro Hirakawa (The promised never-never land live-action movie) The directed film was originally scheduled to be released in Japan on September 18, 2020, but was postponed for two years due to the effect of the COVID-19 pandemic. It is difficult to determine if this two-year delay is one of the factors contributing to this disappointing result.
Toei Animations One Piece Movie Red remained No. 1 at the Japanese box office for an incredible 11 consecutive weekends. The film earned 233 million yen (1.56 million USD) from 168,000 admissions in its 11th weekend, roughly the same figure as the previous weekend. Its total gross in Japan reached 17.1 billion yen (114.8 million USD) for 12.31 million admissions.
RELATED: One Piece Film Red Anime Continues Run At No. 1 Japanese Box Office For 11th Consecutive Weekend
Uta no Prince-sama The Movie: Maji LOVE ST☆RISH TOURS, the second concert film in the Uta no Prince-sama anime franchise, has consistently continued its phenomenal run at the box office. In its seventh weekend, the film ranked sixth, two positions higher than eighth last weekend. Meanwhile, Eiga Delicious Party Pretty Cure: Yumemiru Okosama Lunch! (Delicious Pretty Cure the Movie Party: Kids Dream Lunch!), the 31st feature in Toei Animation's long-running Magic Girl anime franchise, ranked ninth in its fourth weekend, down three positions.
Mainly due to the small number of theaters showing the film (43 theaters across Japan), WATATEN! : An angel flew to me : precious friends, the brand new anime feature film adaptation of Nanatsu Mukunoki's four-panel yuri comic manga, did not appear in the box office top 10. However, the film was well received by audiences, ranking second in Filmarks' Day One Happiness Ranking with an average rating of 4.04/5.0 based on 68 reviews.
Both To me, the one who loved you and To everyone I've loved beforebased on the sci-fi romance novels by Yomoji Otono, quickly disappeared from the top 10 in their second weekend.
---
Japan Weekend Box Office Top 10 (October 15-16, 2022)
(based on ticket sales)
1 (1). "One Piece Film Rouge" – 17.1 billion yen
2 (new). "Karada Sagashi" – 210 million yen
3 (2). "The Divine Protector―Master Salt Begins" – 400 million yen
4 (new). "Whisper of The Heart" – 147 million yen
5 (3). "Chinmoku no Parade" – 2.5 billion yen
6 (8). "Uta no Prince-sama The Movie: Maji LOVE ST☆RISH TOURS"
7 (4). "Seven Secretaries: The Movie"
8 (5). "The Villains" – 140 million yen
9 (6). "Delicious Party Pretty Cure the Movie: Dreamy Children's Lunch!"
10 (7). "Sore ga Iru Mori" – 340 million yen
"Whisper of the Heart" trailer:
"WATATEN!: An Angel Has Flew to Me: Precious Friends" trailer:
---
Sources: Eiga.com, pixiin, Filmmarks
©Aoi Hiiragi/KODANSHA
©2022 "Whisper of the Heart" Production Committee
©Nanatsu Mukunoki, Ichijinsha/Wataten production committee