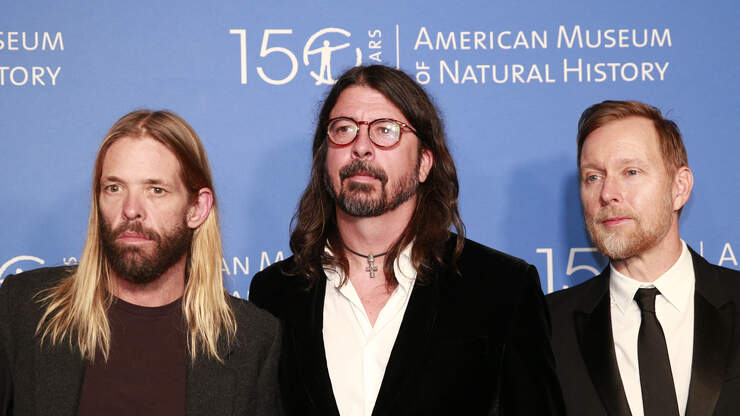 Music: Foo Fighter horror movie trailer released
Foo Fighter Horror Movie Trailer Released
the foo fighters star in comedic horror film "Studio 666," which will hit theaters on February 25, 2022. The film is about a California mansion where the band recorded their 2021 album "Medicine At Midnight." Once the band members enter the house, they must deal with supernatural forces that threaten their album session and their lives.
They have now dropped a trailer for the film. It starts with the band sitting in a board room being told they have to finish album 10. Then they enter the spooky looking mansion. "Do you have this overwhelming feeling of death?" Dave Grohl asks in the trailer. But later in the trailer, Grohl becomes possessed.
The film features band members Grohl, Taylor Hawkins, Pat Smear, Chris Shiflett, Rami Jaffeeand Nate Mendel. other stars Whitney Cummings, Jenny Ortega, Leslie Grossman, and Will Forte are all in the movie, too.
Read more HERE
Paramore is back in the studio
It's been five years since their last album, but Paramore is back in the studio together! They are currently recording their sixth album, which does not yet have a name or release date. The band started writing in Nashville but have now moved to a studio in California where they can record the record.
Hayley Williams explains: "The studios are like studios, but we brought a table tennis table and there is a kitchen that I say I will use. My Postmates bills are humiliating. We started recording only a few months ago. We enter the studio around 10 a.m. and leave around 7 or 8 p.m. like a bunch of dads. I tried to get SZA come hang out with us because i want to be friends in real life but we leave the studio to eat and sleep and she is still dying.
She also shared that their album will have past influences, but that doesn't mean it's an "emo throwback record." Hayley said, "Our production has always been all over the place and with this project it's not that different. We are still in the thick of it but some things have remained constant since the beginning. 1) More guitar emphasis, and 2) Zac should be as animal as he wants with drum takes.
This album will mark the first that Williams, Taylor York, and Zac Farro started and will end together as a trio. In case you forgot, Farro came halfway through creating "After Laughter." "It's really exciting because the three of us have completely different creative strengths," he said. "It makes the music and the whole process of creating a Paramore album completely new."
Read more HERE
Jimmy Eat World & Dashboard Confessional Announce Tour
Jimmy eat people and Confessional Dashboard co-headlining a North American tour in 2022! The "Surviving the Truth Tour" kicks off February 27 in Albuquerque, NM and ends in Houston, TX on March 22. Other cities on the tour include Wichita, Birmingham, Charleston and New Orleans.
Sydney Sprague will be the opener. This tour follows Dashboard Confessional's "All The Truth That I Can Tell" album, which will be released on February 25. This will be the band's first new album in four years.
Get Tix for March 22: Houston, TX – 713 Music Hall HERE…
Stevie Nicks will be the first woman to headline Bonnaroo
The Bonnaroo Festival 2022 announced its lineup yesterday. The three headliners are J. COLE, TOOLand NICKS STEVIE . . . making Stevie the first woman to do so.
In 2020, Stevie said the pandemic was robbing her of her younger years. Quote: "I don't have 10 years to hang around and wait for it to go away…I have places to go, people to sing for, another album to make."
So hopefully we'll see more of Stevie this year, in addition to Bonnaroo.
The festival takes place in Tennessee from June 16-19. Tickets go on sale Thursday at Bonnaroo.com.
Read more HERE
Why is Post Malone's label delaying the release of his album?
POST MALONE the last album was "The Hollywood Bleed" in 2019. He has one ready to go now. . . but he apparently doesn't know when it comes out.
His manager Dre London posted an Instagram message saying, quoting, "Our timing and energy is still at an insane level!! The album is done!! We're ready!! But it looks like Republic Records and Universal aren't. not.
"Posty fans don't need to rush me anymore, we've done our part!! Now it's time for the label to get the business right before they release the BIG album! Hit them! We were ready like you l 're! It's time!!!"
Read more HERE